image above sourced from https://talk-retail.co.uk/tag/disabilities/ 
Online shopping just got personal. Go Instore is an accessible alternative to physically visiting a store, providing live store advice, consultations and support. 
Accessibility and diversity is at the forefront of the retail agenda. With more than 1 in 5 potential UK consumers having a disability, this becomes an even more interesting conversation. Often the needs of those with disabilities are ignored, or perhaps not recognized by retailers.
Research conducted by Purple, an organization dedicated to reducing inequalities for disabled people, shows more than three-quarters of those with disabilities found it difficult to shop online or in person due to their disability on multiple occasions.
In a world where technology is everywhere, it is important that we recognize the opportunity technological advancement presents for the less-abled consumer. The pandemic showed us the possibilities, so now is the time to invest, research and ensure the consumer experience reaches a different level for this segment of consumer. There really is a need for an in-store experience online and despite restrictions lifting there is no let-up in individuals craving a more accessible personal experience.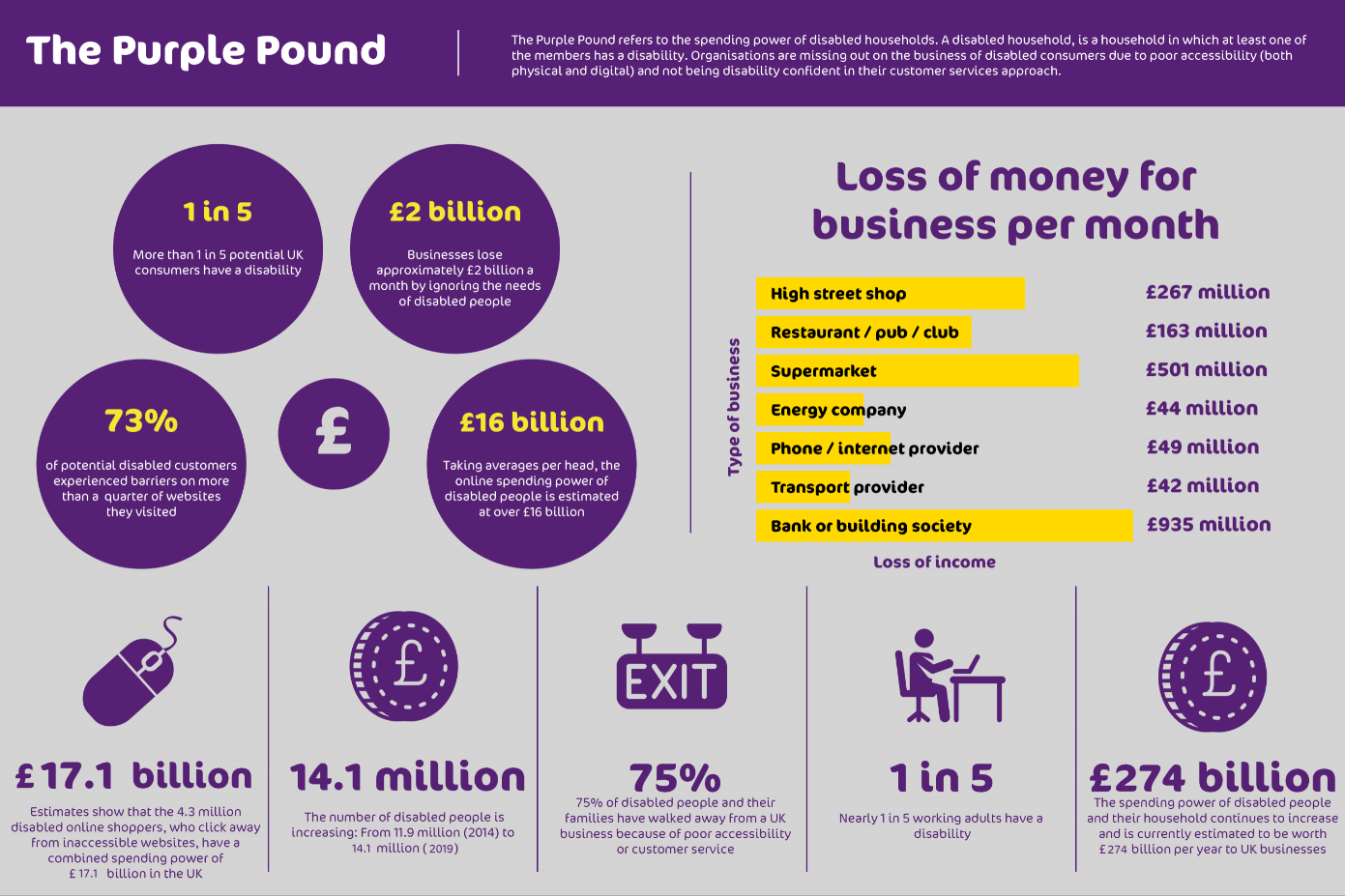 infographic image sourced from https://wearepurple.org.uk/the-purple-pound-infographic/  
As a business that supports diversity and inclusion, we work with many brands who support their disabled customers through video powered retail. We believe that video powered retail can help more brands support their customers and potential customers by helping them shop and enjoy the instore expertise from the comfort of their own home. We are proud to work with such brands and are here to support all other brands that need to put the disabled consumer experience as a priority on their agenda. 
 "Marks & Spencer recognises the importance of providing a website that is accessible to all user groups, including the disabled, the visually impaired and those with motor deficiencies and cognitive disabilities – we have done this by looking at all elements of the website from font and text to chat and our M&S Live Expert service helps us to offer our customers flexible, easy and rewarding shopping experiences whether they choose to shop online, in-store, or both"  – Marks and Spencer
 "Signet is a people-first company – this means we put not just our customers but our valued team members at the centre of everything we do. We pride ourselves on winning with customers wherever, whenever and however they want to shop and engage, providing innovative experiences for all user groups.   As part of our ongoing 'Path to Brilliance' digital transformation strategy, Signet deployed an innovative new feature called Go Instore on every website within their entire brand portfolio. Go Instore enables customers to instantly connect with their trusted, locally based jewellery consultant via an instant "Live Advice" virtual connection to help them easily celebrate their lives and express their love" – Signet
" Staff were great, connection was slightly unstable but I am very glad that this service exists! I'm disabled and find it very difficult to get into store, this is much more accessible for me. I bought over £ worth of furniture last time I used this service and would recommend it to a friend. I would probably never spent that amount of money otherwise" – Cotswold Co.